Starlink Price In Nigeria & How To Set It Up
Elon Musk's Starlink is now officially available in Nigeria, and everyone has high expectations of it, hoping it will give our current network providers a run for their money, as it promises wider coverage, unlimited data, and faster internet. Now, having had mine for well over a week, I'd say while it is promising, it's probably not quite the solution you were hoping for, at least not yet.
Starlink Price In Nigeria
The Price of Starlink in Nigeria is ₦378,000, you can now pay with your naira card instead of the dollar virtual card which was the only alternative initially.
Once you can successfully place your order, Starlink takes about two to four weeks to deliver due to high demand.
How To Order Starlink In Nigeria
Visit Starlink Website
Select your location to confirm its availability in your area.
Make Payment
Wait for delivery
CHECK OUT:
Unboxing & Setting Up
In The Styling box, you find your Mount dish, router, and cables. Setting this up is very easy and can be done by anyone. You might only need assistance to get it mounted on your roof as it needs clear access to the sky. The cable that comes with it is 75 feet long, and it's plenty sufficient.
It doesn't require any technicalities to get it working, just connect the router to power and to the dish, download the app, and follow the setup guide. It needs to be positioned somewhere without obstructions, either in an open field or on the roof.
You can use the app to scan if it's in a good position. Now, once you set it up, it aligns itself with stunning satellites, and you are good to go.
The mount that comes with it is suitable for flat surfaces or ground placement. You can order alternative mounts from Starlink, either Walmart's or pull mounts as you see fit. It would have been great if you can choose a suitable one during the initial order, so you don't have to spend extra.
Starlink Network Test
The Starlink router broadcasts its network on both 2.4 and 5GHz under the same Wi-Fi name, and if your device connects to the supported network, you can split the network if you want to. But from my test, I discovered that its 5gigahertz network is on a channel not supported by most smartphones. For context, a Pixel 7 connects to the 5 gigahertz network, but every other phone connects to 2.4 gigahertz. That includes my Galaxy S23 Ultra, iPhone 14 Pro, Galaxy S22 Ultra, Fold 4, and all others.
That is not to say these phones do not support 5 gigahertz Wi-Fi. They can connect to 5 gigahertz from the MTN router, just not with Starlink. But it's detectable on my laptops, so speeds are noticeably faster on my laptop and the Pixel 7.
I think the 2.4 gigahertz network is good enough, especially for smartphones. Since with 5 gigahertz, you need to be close to the router for best performance, and you move around the house with your smartphones.
Starlink Speed Test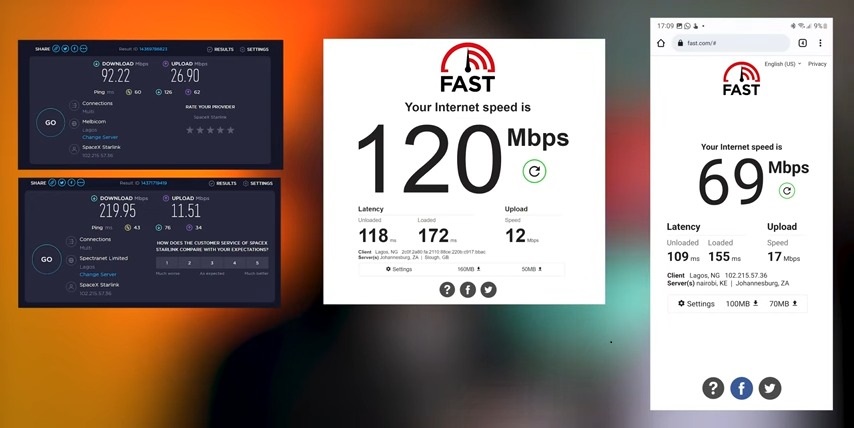 The download speeds, as promised for this region, are consistently between 50 to 215 Mbps, at least until it starts raining. Yeah. Starlink gets affected by weather conditions. In this case, rain caused it to initially go offline for a few minutes, then come back online and give speeds consistently below 10 Mbps, with upload speeds as low as zero. Other users also reported the same. Now, it's giving DStv vibes, like when it runs, it pauses. Literally another concern when it comes to speed, regardless of weather conditions.
Starlink has terrible upload speeds. I have had to rely on my MTN for uploads. Attempts to upload a file of less than 400 MB were taking up to 20 minutes with Starlink. That's terrible, and I hope with time, it gets better because you don't spend this amount of money on the internet and still need to rely on alternatives for uploads and adverse weather conditions.
But on the bright side, one advantage Starlink has over major ISPs we currently have in Nigeria is coverage. You can use it anywhere, even in remote areas, as long as you have a good source of power. That is, you cannot use Starlink without a custom power source, and I'm not talking about small power banks.
Does Starlink Have a Limit?
As per my observation, Starlink is not truly unlimited. It has a 1TB cap after which there is fair usage, and the speed is throttled. I've not used up to one terabyte, so I can't confirm how slow it will get. There are also peak and off-peak hours, so data you use in off-peak hours do not count towards the one terabyte.
So if you are that much of a heavy user and can use as much as one terabyte monthly, you can save your heavy downloads for off-peak hours, which is from 11 pm to 7 am. For gaming, the ping is around the same as I get with MTN. It's not better. Also, since it has poor upload speeds, if you live stream, you might want to seek an alternative.
One issue you might have with Starlink is the lack of support service. There is no easy way to reach customer support as we have with our local ISPs. So if you have any issues, you need to research and probably create support tickets and hope for a resolution. There is no support line to call for complaints.
If you don't use anything more than 300GB of monthly internet, I won't recommend spending so much on Starlink. Definitely not for that average user that just wants to subscribe a thousand naira for data.
Pros
It has wide coverage even in remote areas, good download speeds, large data cap (probably more than you need).
Cons
It currently has poor upload speeds and is not reliable when it's raining, from my experience so far. Also, no easy access to customer support.
Starlink FAQ
What Is Starlink Monthly Subscription?
The monthly subscription for Starlink is about ₦38,000. You get a 30-day free trial for the first month, although I got a payment-due notification from Starlink within five days.
How Many Devices Can Connect to Starlink?

The router is expected to connect up to 128 devices, as you should already know the more devices connected the lower the speed.
Can I Pay for Starlink with a Naira card?

Yes, you can pay for Starlink with a Naira card instead of the dollar virtual card that was used in the past.
Is Starlink a Router?

No, Starlink is not a router. Starlink is a satellite internet service that provides high-speed internet to homes and businesses in remote areas. It uses a network of satellites to beam internet signals down to a dish that is installed on your property.

The dish then converts the signals into an Ethernet signal that can be plugged into a router. The router then creates a Wi-Fi network that you can use to connect to the internet with your devices.
Verdict
Purchasing Starlink does not replace your mobile network since you can't just carry it around. You'll still be subscribing to mobile data, and due to its current poor upload speeds and unreliability in tricky weather conditions, you might still need backup internet. So you weigh the pros and cons and decide if it meets your network demands.
Let me know what you think about Starlink in the comment section.