iPhone 13 mini Price In Nigeria
The size of smartphones has been on the rise in recent years, but companies like Apple like to believe there's still a market for smaller phones. And not just any smaller phones, but flagship ones.
The iPhone 13 Mini is identical to the iPhone 12 Mini. It's practically equal in size, and most of the design is the same, despite some changes. You will see that the cameras are now aligned diagonally instead of vertically, and the size of the notch in the front has been slightly reduced.
If you are planning to get the iPhone 13 mini, but you want to know the price, then you are at the right place. We are going to share the price of the iPhone 13 mini, its specifications, and some other things you need to know about the device.
iPhone 13 mini Price In Nigeria
The price of the iPhone 13 mini in Nigeria is around ₦450,000 – ₦670,000. The prices differ based on the storage capacity you are buying and where you are buying it.
The 128GB, 256GB, and 512GB models all have different prices. But we are going to give you a breakdown of the prices in the table below.
| iPhone 13 mini | Price In Nigeria |
| --- | --- |
| iPhone 13 mini Price In Nigeria 128GB | ₦450,000 – ₦500,000 |
| iPhone 13 mini Price In Nigeria 256GB | ₦560,000 – ₦590,000 |
| iPhone 13 mini Price In Nigeria 512GB | ₦610,000 – ₦670,000 |
iPhone 13 mini Price In Nigeria
iPhone 13 mini Price Full specifications
| | |
| --- | --- |
| BASIC INFO | |
| Name | iPhone 13 mini |
| Model | A2628, A2481, A2626, A2629 |
| Launch Date | September 14th, 2021 |
| DISPLAY | |
| Type of Screen | OLED |
| Size Of Screen | 5.4 inches |
| Resolution | 1080 x 2340 |
| DESIGN | |
| Weight | 141 g |
| Dimensions | 131.5 x 64.2 x 7.7mm |
| Build Material | Corning glass front and back, and aluminium frame |
| PLATFORM | |
| Software | iOS 15, upgradable |
| Processor | Apple A15 Bionic |
| GPU | Apple GPU 4-core graphics |
| CAMERA | |
| Main | 12MP |
| Ultrawide | 12MP |
| Selfie | 12MP |
| Video recording | 4K@24/30/60fps (Main Cam) 1080p@30/60/120/240fps (Selfie) |
| MEMORY | |
| RAM | 4GB |
| Internal storage | 128GB, 256GB, 512GB |
| BATTERY | |
| Capacity | 2438mAh |
| Type | Li-Ion |
| OTHERS | |
| Face ID | Yes |
| Colours | Starlight, Midnight, Blue, Pink, Red, and Green |
| SIM | Single Nano SIM & esim |
| FM Radio | No |
| 3.5mm jack | No |
iPhone 13 mini Price Full specifications
CHECK OUT:
Design & Build Quality
The iPhone 13 mini is very comfortable to use since it's so small, one-handed use feels natural and easy. Not only that, but the aluminum frame with brushed paint is nicely grippy, and although fingerprints do stick around, they aren't too visible. This is the best user experience you'll have on such a compact display, and if you're a fan of small phones, you'll definitely enjoy using it.
It's also one of the most durable phones on the market, as various drop tests have already proven. It has a ceramic shield on the front, an aluminum frame in the middle, and it has a Corning-made rear panel. The iPhone 13 Mini will have no issues at the beach or hanging by the pool.
It has an IP68 dust and water resistance rating, and Apple went above and beyond the requirements for it. It can handle 30 minutes under 60 meters of water.
Display
The 13 Mini has a 5.4-inch Super Retina XDR display. The OLED screen supports HDR 10, Dolby Vision, and its bezels are as thin as the iPhone 12 Mini's, but with a narrower notch. Unlike its bigger Pro siblings, the 13 Mini's refresh rate stays at 60 hertz, but it does have a touch sampling rate of 120 hertz.
The screen itself is great. The Mini measured an excellent 831 nits of max brightness, and with a pixel density of 476 PPI, it has the sharpest screen on this year's iPhone lineup. It also sports Apple's True Tone technology and has excellent color accuracy.
Audio
The 13 Mini has stereo speakers, there's a single bottom-firing one, and the earpiece doubles as a loudspeaker as well. On our audio test, it had very good loudness. The audio quality was impressive too, and we can hear some bass, good mids, and pleasant highs. You definitely won't be disappointed, as it has one of the best speaker setups on the market right now.
Battery Life & Charging
The 2,438mAh battery seems tiny going by today's standards, but it's a 10% increase over the previous year. It received a 75-hour endurance rating on our battery life tests, which isn't bad for such a small phone. That's actually a 6-hour improvement over last year's Mini.
The 13 Mini doesn't ship with a charger adapter, but if you use Apple's 20-watt charger, it gets the phone from zero to 61 percent in half an hour, and a full charge took an hour and 24 minutes.
Processor & Performance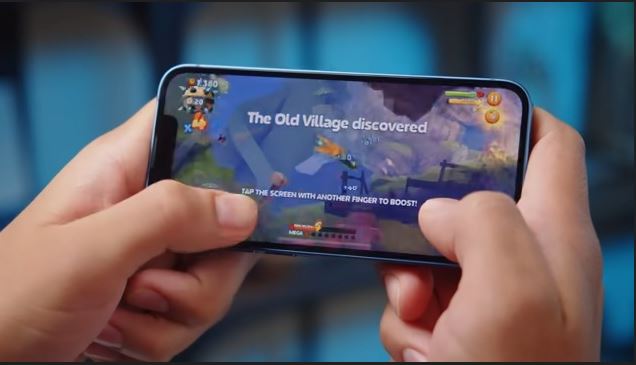 Like the rest of Apple's iPhone 13 lineup, the Mini has the A15 Bionic chip. Where it differs is that it has four gigabytes of RAM instead of the six gigabytes on the Pro models. This is the fastest mobile chipset to date, and it's way ahead of the Android competition.
You'll definitely have plenty of power for years to come. What's more, is that the thermals worked well, and the phone never got too hot to handle. It allowed the CPU to keep 74% of its max performance with sustained use, while the GPU throttled to 64% of its max performance after 20 minutes at full power.
Software & UI
The iPhone 13 Mini comes pre-loaded with iOS 15 out of the box. One of the more noteworthy improvements arrived with notifications management. Now you have focus profiles that determine when you receive certain notifications, so you get what you need whether you're in work mode or if you're playing games.
FaceTime and Safari have also gotten significant upgrades, and the UI has newer design elements that are now rounder than before. Of course, there's much more than that, since the software is identical across all of Apple's flagships. We've gone much more in-depth about it in our iPhone 13 video, and we've linked it down below.
Camera
The 13 Mini sports a 12-megapixel main camera with a bigger sensor than last year and sensor-shift stabilization, along with a 12-megapixel ultrawide camera with fixed focus. These are the same ones you'll find on the iPhone 13, so everything we said in that review still applies.
Main Camera
During the day, the main camera shoots excellent photos. They're sharp, with a lot of detail, great contrast, and low noise. The dynamic range is praiseworthy too, but the way this camera renders foliage is not our favorite.
Ultrawide Camera
The ultrawide camera shoots some of the widest photos we've seen. The details were okay, the contrast was great, the noise was low, and the colours were very accurate. The dynamic range is well-balanced here too. Again, we weren't impressed by how it handles foliage, and there's no autofocus here like on the iPhone Pro models.
Night mode is triggered automatically in lower light. Photos from the main camera looked really nice. The exposure was balanced, the contrast was great, and colour saturation was superb. The detail and sharpness were outstanding as well. The ultrawide camera also supports the auto night mode. Shots here were okay, while exposure, contrast, and colors looked good. Still, the images were soft and quite noisy, and we can only really recommend them for social media.
Selfie Camera
Apple's selfie camera has two fields of view modes: a 12-megapixel wide one and a slightly zoomed 7-megapixel crop. The 12-megapixel selfies are fantastic, with an excellent amount of detail, contrast, and dynamic range. Here as well, the colors are very accurate, and the noise was handled well, even when shooting in less ideal light conditions.
Video Recording
The iPhone can record up to 4K video at 60 frames per second with both cameras. All videos are digitally stabilized, and they all feature expanded dynamic range thanks to Smart HDR. iPhones usually have excellent video quality, and naturally, the iPhone 13 Mini can capture some of the best videos in the mobile business. During the day, the footage is great. The dynamic range is wide, and colours are lively.
The ultrawide is just as good, and it captures some of the best footage we've seen from an ultrawide so far. There's great parity with the main camera as far as color, exposure, and dynamic range are concerned. The detail is great too.
There's a new cinematic mode, which acts like a portrait mode for videos by blurring the background behind your subject. It's currently the best implementation of this feature yet, but it's far from great, especially with edge detection.
FAQ
How Much is iPhone 13 Mini UK Used in Nigeria Now?
The price of a UK used iPhone 13 mini in Nigeria is around ₦300,000 to ₦400,000. The exact price will depend on the condition of the phone, the storage capacity, and the seller you are buying from.
Is iPhone 13 Mini Water Resistant?


Yes, the iPhone 13 mini is water resistant, it has an IP68 rating. It can withstand being submerged in water up to 60 meters deep for up to 30 minutes.
How Long Does iPhone 13 Mini Battery Last?

According to Apple, the iPhone 13 mini has a battery life of up to 15 hours of video playback. However, your everyday battery life may be different depending on your usage habits.
Verdict
The iPhone 13 Mini isn't a huge jump from the 12, and the annoying notch, while smaller, is still around. The screen still doesn't have a high refresh rate, and the ultrawide is only a fixed focus.
Other than that, it has a beautiful, durable, and lightweight design, and it has the same excellent speakers, top-notch camera quality, and powerful chipset as its siblings. Simply put, if you're looking for a compact flagship, this is the best one on the market, and we highly recommend it.