Redmi 12 Price In Nigeria & Specifications
This is the Redmi 12, when I saw the spec sheet, I knew it was a mimic of the Tecno Spark 10 Pro. They copied someone's homework and just changed it slightly. The only difference between this and the Tecno Spark 10 Pro is that it has an ultra-wide camera.
So, you can basically go and check out the Tecno Spark 10 Pro, and you would see that 85% of everything there is in the Redmi 12.
Redmi 12 Price In Nigeria
The price of the Redmi 12 in Nigeria is ₦95,500 for the base model with 4GB RAM and 128GB Internal Storage. The variant with 8GB RAM and 128GB Storage costs ₦102,500 while the variant with 8GB RAM and 256GB internal storage is ₦112,500.
| Redmi 12 | Price In Nigeria | Price In Dollars |
| --- | --- | --- |
| 4GB RAM +128GB | ₦95,500 | $128 |
| 8GB RAM +128GB | ₦102,500 | $136 |
| 8GB RAM +256GB | ₦112,500 | $150 |
Redmi 12 Price In Nigeria
Redmi 12 Full Specifications
| | |
| --- | --- |
| BASIC INFO | |
| Name | Redmi 12 |
| Launch Date | June 15th, 2023 |
| DISPLAY |  |
| Type of Screen | IPS LCD |
| Size Of Screen | 6.79 inches |
| Resolution | 1080 x 2460 |
| DESIGN |  |
| Weight | 198.5g |
| Dimensions | 168.6 x 76.3 x 8.2 mm |
| Build Material | Glass front and back, and plastic frame |
| PLATFORM |  |
| Software | Android 13, Running on MUI 14 |
| Processor | Mediatek Helio G88 |
| GPU | Mali-G52 |
| CAMERA |  |
| Main | 50MP |
| Ultrawide | 8MP |
| Macro | 2MP |
| Selfie | 8MP |
| Video recording | 1080p@30fps |
| MEMORY |  |
| RAM | 4GB, 8GB |
| Internal storage | 128GB, 256GB |
| BATTERY |  |
| Capacity | 5000mAh |
| Type | Li-Po |
| OTHERS |  |
| Fingerprint | Yes (Side Mounted) |
| Colors | Starry Black, Pearl White |
| SIM | Dual Nano SIM |
| FM Radio | Yes |
| 3.5mm jack | Yes |
Redmi 12 Full Specifications
Design & Build Quality
Just like I said earlier, the Redmi 12 is just a twin of the Tecno Spark 10 Pro. All the ports and buttons are present here in their usual positions, and it's typical with Xiaomi phones. We have an IR blaster at the top, which you can use to control some electrical appliances. Even the displays could pass as twins. They both have a hole punch cut out to about the same amount of bezels, and their screen sizes are basically the same.
There is a difference of about 0.01 inches, but everything else is the same. The resolution is 1080p, which is sharp and detailed enough when watching videos. And for some reason on YouTube, you can watch videos up to 2160p even though this is a 1080p display.
Display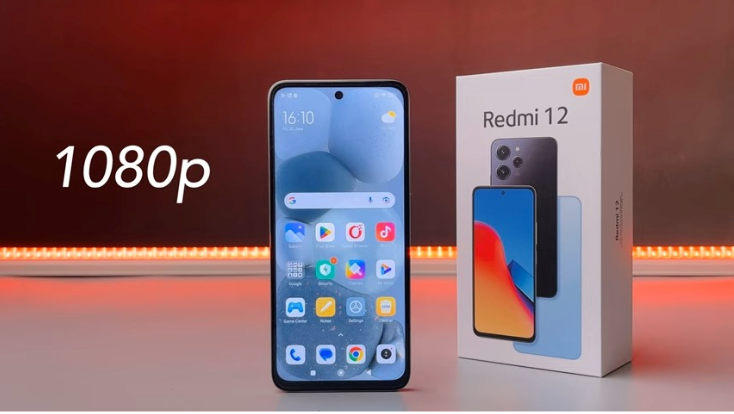 The Redmi 12 also has an LCD display, just like the Spark 10 Pro. And for this price point, there are no complaints. When you take it outdoors, it's pretty visible. It would appear darker on camera, but it is brighter. It also has a 90 Hertz refresh rate display.
By default, it's adaptive, so it switches between 60 Hertz and 90 Hertz. But you can also choose to have it always at 60 Hertz or always at 90 Hertz. I chose the latter. With my bare eyes, when I switched from 60 to 90, it wasn't so clear that I did. But either way, it's decently smooth.
At this price point, people want a big screen, a bright screen, and a display with nice sharpness and colors for watching videos. And this does that pretty well.
Software & UI
I don't think people will care too much about what Android version their phone is running on at this price point, but they care more about their phone just working well and not giving them any real issues. But nonetheless, the Redmi 12 comes in the box with Android 13 and MIUI 14.
Anytime time I say I love MIUI and how it looks, Redmi users always disagree with me. I've seen comments from people saying an update came and crashed their phone or that their phone has too many bugs.
But they haven't users like me who haven't faced any real issues when using the Redmi phone. And also, with this, you should get at least Android 14 and Android 15.
In general, Redmi doesn't have a great rep when it comes to software stability. But because I haven't experienced any major issues, I still feel okay recommending this one.
Processor, RAM & Multitasking
The Redmi 12 comes with the Helio G88 as its processor, and the performance is very decent and should handle multitasking and gaming pretty well. I would recommend getting the 8GB version though if you're a bit of a heavier user because the more RAM you have, the better your phone will perform.
I got the 4GB version, and opening apps and reopening apps did take a bit longer than I thought it would. But I feel that you won't have this problem if you go with the higher version.
Storage Capacity
The base model of the Redmi 12 comes with 128GB of internal storage while the other variant comes with 256GB of internal storage.
I just want to say there are too many pre-installed apps on this phone. I guess this is how Redmi is able to make their phones affordable. I counted seven games and six social media apps that came pre-installed on this phone, and that's not even all. There are at least three or four others.
As soon as you get this phone, to free up storage, make sure you uninstall all of those apps. And I think that should help your phone run a tad bit smoother.
Camera Video Recording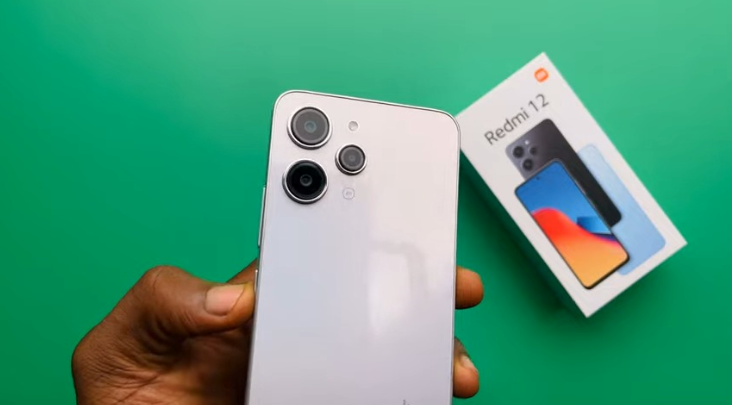 The Redmi 12's camera really impressed me. It comes with a 50-megapixel main camera and an 8-megapixel ultrawide sensor, I knew the photos were going to be good. I really liked how the photos came out. But occasionally, the main sensor looked really bad.
That happened twice or three times. It was almost as if the image wasn't processed. And also, when you look at the ultrawide photos next to the main camera photos, the ultrawide seemed to have bluer skies and overall better HDR.
So, I would say there were a few hiccups, but I would still give the photos an 8 out of 10 because, I mean, definitely for this price, this is probably the best camera. You can record videos at 1080p with no stabilization. In terms of quality, it was bad, and I can say the same thing about the selfie video as well.
Battery Life & Charging
Redmi 12 gets a 5,000 milliamp-hour battery, I noticed that the battery life was pretty average, or should I say, average if you're a heavy user. When I game for 30 minutes, it took nine percent of the battery. So, at that rate, in five and a half hours, you've run out of battery.
If you're not doing a lot on your phone, it will last much longer. You can even see up to eight hours of screen-on time. So, for the gamers out there, you would have to charge this twice a day. It also comes with a charger in the box, an 18-watt charger, which isn't super fast or anything. But in about an hour and a half, your phone would be juiced up.
CHECK OUT:
FAQ
How Much Is Redmi 12 In Nigeria?
The Redmi 12 in Nigeria costs around ₦95,500 which is approximately $128 for the base model with 4GB RAM and 128GB Internal Storage.

What is the Battery Capacity of Redmi 12?
Redmi 12 comes with a 5000mAh battery capacity.
Which Android Version Does the Redmi 12 Run?
The Redmi 12 runs MIUI 14 based on Android 13 out-of-the-box.
Conclusion
I would say they took a Spark 10 Pro, copied it, added an ultra-wide camera, added MIUI, made it cheaper, and they got the Redmi 12. You can check the specs of the Tecno Spark 10 Pro to compare the two phones, especially the cameras.
I think if you're fine with MIUI and its drawbacks, this might be the best budget phone of the year and the phone you should buy if you can only spend a hundred thousand.