Redmi Note 12 Pro 4G Price In Nigeria
It's 2023 and Xiaomi desires to bring the Redmi Note 12 Pro 4G, but include it differently, adding 5-star charging, and then forgot it's 2023 because it comes with Android 11.
If you actually want to buy this phone right now, but you are concerned about knowing the price, then you are in the right place. we are going to share the price with you including the specifications too.
Price Of Redmi Note 12 Pro 4G In Nigeria
The Redmi Note 12 Pro costs ₦177,000 in Nigeria, that's around the same or actually a little less than the price you'll find for the Note 10 Pro, that is if you can still find it now.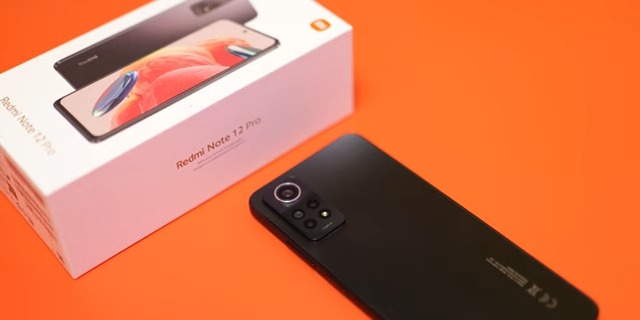 | Redmi Note 12 Pro | Price In Nigeria |
| --- | --- |
| 256GB + 8GB RAM | ₦177,000 |
Price Of Redmi Note 12 Pro 4G In Nigeria
Now, there's actually plenty to complain about this device because of its seemingly outdated specifications, but one thing you can't deny is that Redmi 12 Pro 4G, while it is a reincarnation of the almighty Note 10 Pro, is still probably one of the best value for money phones at its price. Surprising, right? I'll explain why I think so later.
Design & Build Quality
The Redmi Note 12 Pro is actually still an okay phone by today's standards as long as you can look past its old software, which is actually not bad. Plus, if it's any consolation, two years of OS upgrades will bring it up to 113. Although, as of now, there are no updates, so we don't even know how serious Redmi will take this and hopefully not push broken software updates.
It feels like I've only complained about the device so far, but don't mind me, I'm probably just nitpicking. As I mentioned earlier, it's still one of the best spec devices for its price. There are not many value-for-money devices priced under 200k in Nigeria, which is why I think this is still a recommendable one. The device actually performs great, and I've encountered no issues with it so far.
You're getting the typical Redmi accessories, but this time with the 67 Watts fast-charging brick. The design is made more similar to recent Redmi devices in its flatness. Regarding the camera arrangement, though, I reserve my comments. The rear has matte texture, but it's not quite smooth-resistant.
It still has that solid-looking AMOLED display common with Redmi Pro devices with a 120Hz refresh rate, which is pretty smooth in my experience. Now, aside from the fact that this is running on Android 11 and MIUI 13, the software experience has actually been smooth and lag-free.
More so, you might actually want to stick with the software even when an update comes due to the uncertainty of Redmi updates. But of course, I'll post on Twitter when an update comes, and if it's safe for you to update should you have one.
Some current Note 10 Pro users are complaining of battery drain and heating issues with their MIUI 14 updates, so you might want to hold on when you get the software update for this one. Plus, Android 11 is not that far away. With MIUI, it still practically looks the same as their current software for the most part. Now, don't get me wrong, I am not trying to make an excuse for Xiaomi releasing this without detailed software.
I still think it should have been under 13. Just trying to see it from the perspective of a user who wants something affordable that is valuable enough and probably not bothered by using the current software as long as it works fine.
There are two RAM options for the Note 12 Pro, 6 or 8 GB, both with 128 GB of storage, and you are able to expand by SD card. It uses a hybrid SIM slot, either dual SIM or one SIM on an SD card.
Processor & Gaming Performance
The processor power in the Redmi Note 12 Pro is the Snapdragon 732G, a processor which was a top mid-range one two years ago and is still very much relevant today.
There is actually no Snapdragon processor right now at this price point better than the 732G, correct me if I'm wrong. Although it doesn't have 5G support, it's still very capable and powers this device quite well. Performance is solid all around. For gaming, it does great playing your favorite titles at medium to high graphics. Conveniently, it might heat up when gaming for long sessions, but not uncomfortably, at least in my experience.
It plays Call of Duty Mobile at very high graphics and very high frame rates. It can go to Max frame rate if the graphics are set to high.
Battery Life & Charging
Battery life so far has been good, and its 67 Watts charging comes in handy for fast charging. You know, the Note 10 Pro had 33 Watts charging, so if charging speeds are that important to you, here's one area where this is improved over the Note 10 Pro.
But one thing we've actually not talked about is if this device is actually an upgrade with Note 11 Pro from last year. The Note 11 Pro 4G actually technically isn't, but depending on how you look at it, the 12 Pro 4G is probably a better device except for its older software. But it's probably not one you should drop your Redmi 11 Pro in favor of.
Camara Specs & Video Recording
The 12 Pro is packed with a 108-megapixel main camera, 8-megapixel for its Ultra-wide, 2-megapixel macro, and depth sensors, and a 16-megapixel selfie camera. I'd say the camera performance is great and actually looks a bit better than what I remember from the Note 10 Pro.
It handles skin tones better, and images look well-processed with satisfying color representation. Of course, the Note 10 Pro should still be just as good. I don't have it to make a direct comparison to confirm if the new one is actually better since I let go of my Note 10 Pro about a year ago.
CHECK OUT:
Image quality might experience some inconsistencies with skin tones, and survey performance also looks better than I remember as it does a better job with skin tones and details as long as you disable the default Beauty filters. Also, HDR processing doesn't always work, but when it does, it's great.
The Redmi Note 12 Pro 4G can shoot 4K videos, but only from its rear camera shooting at 4K 30 FPS. It doesn't have optical image stabilization, so unless you have really stable hands or use a tripod, you might need to record in 1080p for better software stabilization. Its selfie camera is only able to shoot 1080p 30 FPS.
I feel Redmi should have probably named it the Note 10 Pro 2023 because that's what it basically is, but I guess calling it the 12 Pro 4G is better for marketing. Do I recommend it? Yes, if it falls within your budget. There are not many phones at this price point right now that will give you as good performance all around as the Redmi Note 12 Pro 4G, as long as you can manage the fact that it's on Android 11 and won't get past 11.3 while managing your expectations on the software updates, I say you should be fine.