Samsung Galaxy A34 Price In Nigeria
This is the Galaxy A34 which you probably couldn't tell until you turn to its display, thanks to the unified design across all Samsung devices this year.
To be clear, it has improved performance over the A33 in terms of stability and I'll say gaming, but not so much on cameras in my opinion. The A34 supports dual Nano sim cards alongside a micro SD card slot should you need more storage.
Samsung Galaxy A34 Price In Nigeria
In Nigeria, the Galaxy A34 costs about N236,000, We're only getting one version in Nigeria, the one with 6GB of RAM and 128GB of storage. As you should already expect, there's no charger in the box with Samsung devices. So you'll need to buy one if you don't already own one.
| Samsung Galaxy A34 | Price In Nigeria |
| --- | --- |
| 128GB | N236,000 |
Samsung Galaxy A34 Price In Nigeria
Samsung Galaxy A34 Price On Konga
The Samsung Galaxy A34 is currently available for purchase on Konga at N236,000. While the price may look high, you will definitely get value for your money.
SEE ALSO: iPhone XR Price In Nigeria Uk Used, Full Specifications
Build Quality
The Galaxy A34 is IP67 water and dust resistant just like its predecessor. I think at this price point aside from Google's Pixel you won't find any other devices with an IP67 rating. Feel free to correct me if I got that wrong.
The Galaxy A34 is a 5 G-supported device, but if you're in Nigeria I'd say not to use 5G as a reason to buy it because Samsung phones still currently do not work with MTN 5G unless you're buying one originally meant for another region. On the Display, You get a 1080p AMOLED display with a 120hz refresh rate.
Software & UI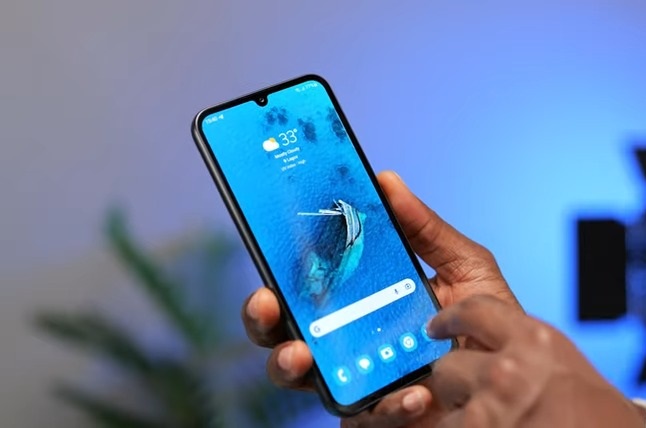 The A34 is running on Android 13 and OneUI 5.1 and we should see 4 major OS upgrades for this, which takes it all the way to Android 17. And Samsung has not given us any reason to doubt they'll deliver on that.
The One UI experience is mostly bug-free and allows you truly experience the smoothness of the refresh rate. Again, much better than you would from its predecessor.
Battery Life & Charging
Its battery life so far has not given any cause for concern. It's steady lasting through the entire day of standard use. It Sports a 5000mAh capacity and supports up to 25w Fast Charging.
Camera & Video Recording
In the camera department, coming from the A33, nothing much has changed. The exact same camera configuration with the exemption of the depth sensor which I'd say was irrelevant. The rear cameras are great and I found them satisfactory for the most part, but there are inconsistencies sometimes with HDR processing. You might need a few shots to get the perfect one.
CHECK OUT:
But the cameras are just as impressive as you'd expect of a Samsung midrange device, including night mode shots. Where you might notice more inconsistencies is with the selfie camera. Sometimes the skin tone is off, other times it's great, sometimes HDR is absent, and other times it's great.
I don't remember the A33 being this way and it could be because of the Dimensity chipset Or just Samsung needing to better optimize it. It can shoot videos at 4K 30fps from its selfie and rear cameras.
The rear camera has OIS which works great at 1080p but at 4K it's not as good.
Verdict
The Samsung Galaxy A34 coming from the A33 is an improvement a bit in performance and if you're wondering if it's an upgrade from the A33, I'd say to a reasonable extent, yes. But if your A33 experience is smooth and not laggy you shouldn't upgrade. If however you're looking to choose between the A34 and A33, I'll recommend getting the A34.