Tecno Phantom V Fold Price In Nigeria
Tecno just released their first Foldable smartphone, and after using it for a while, I was Wowed. This might be the best smartphone I have used this year. The Phantom V Fold destroys all the negative perceptions some people have about Tecno devices.
The build quality is solid, the displays are amazing, the performance is top-notch, the software has been revamped with no bloatware and no ads, and the camera has been drastically improved. So, is the Phantom V Fold worth buying? The short answer is yes.
Tecno Phantom V Fold Price In Nigeria?
The Phantom v-fold costs around ₦695,000 for the 12GB RAM and 256GB internal storage option while the 512GB internal storage option with 12GB of RAM goes for ₦775,000. People might be complaining about the price of the Phantom V Fold but it's the cheapest foldable smartphone you can buy brand new right now.
| Tecno Phantom V Fold | Price In Nigeria |
| --- | --- |
| 12GB RAM + 256GB | ₦695,000 |
| 12GB RAM+ 512GB | ₦775,000 |
Tecno Phantom V Fold Price In Nigeria
Tecno Phantom V Fold Price On Jumia
You can purchase the Tecno Phantom V Fold on Jumia at ₦730,000 with one year warranty. You can choose the door delivery option and have it delivered to your doorstep in a few days.
CHECK OUT:
Unboxing, Design & Build Quality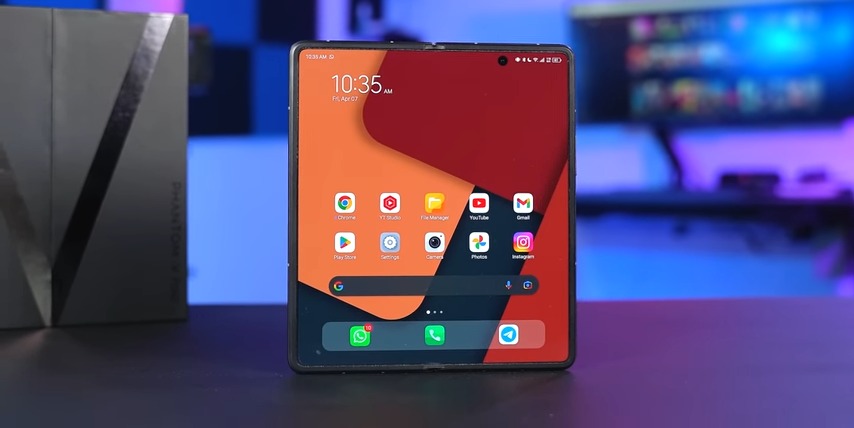 In the box, it comes with an aramid protective case that protects only the rear of this smartphone. The case is also a functional one as it has a stand. Also included in the box are a USB Type-C cable and a 45-watt fast charger that charges the 5,000-milliamp battery inside this affordable smartphone from 0 to 100 in 1 hour and 8 minutes when I tested it out.
Moving to the build quality, the Phantom V Fold feels like a tank. The sub-screen, which is the outer display, is protected with cunning Gorilla Glass Victors while the bigger display is made from Scott's UTG, its affordable glass that is thinner than human hair, and it's tough.
The sides are made from aluminum, and the brand is made from plastic which has a cool design, just like the Phantom X2 series. The moment you hold the smartphone, you're going to feel the heft. It's 296 grams, easily the heaviest smartphone I have used, but surprisingly easy to hold, especially in tablet mode. It's almost like half of the weight disappears when you unfold it.
Since this is a foldable smartphone, I know what you guys are thinking. You're thinking about durability. Yeah, the hinge is made from aerospace-grade materials and has been tested and folded 200,000 plus times, so it's durable to last for years. Even more, Tecno is giving out 365 days warranty on the display, so if anything happens to it, they're going to fix it for free.
Moving to the external features, at the top, it has a microphone and a speaker. Moving to the bottom, it has another microphone and a speaker, a USB Type-C port, and a nano SIM card tray that can take 250 SIM cards. Unfortunately, there is no memory card slot.
The dual stereo speakers on this smartphone sound good. They're not the loudest I've experienced, but I wish they could be a little bit louder. Also, the haptics on this smartphone is good. They are way better than what you will find in the Phantom X2 series, but I wish they were a little bit stronger.
On the right side is where you're going to find the volume and power buttons. The power button is also the fingerprint scanner, and it's fast to unlock the smartphone. Look at it go. Moving to the rear, the Phantom V Fold has three cameras: a 50-megapixel main camera, a 50-megapixel telephoto camera, a 13mm pixel ultra-wide camera, and a flash LED light. Moving to the front, it has a 32-megapixel selfie camera, and when you unfold it, it has another 60-megapixel selfie camera. So, this device has five cameras in total.
Display
The outer display on the Phantom V Fold is a 6.42-inch 1080 AMOLED display with a side that is curved. It has an LTPS display, which means it has a variable refresh rate. The refresh rate can go as low as 10 Hertz when there's no activity on the screen to save battery life.
When activity peaks, it can go as high as 120 Hertz for the touch sampling rate. For those that don't know what it means, it's how responsive the display is to touch. The Phantom v-fold has a touch sampling rate of 240 Hertz, which means it's very responsive.
one thing I like about this display is you can type on it. It doesn't feel cramped. It's also big enough to show the entire content on Instagram, for example. You can use it to watch YouTube videos and not feel like it's a small display. Plus, the quality of the display is great. It supports HDR content. For brightness, it has a peak brightness of 1108, which means you can use the display under direct light with no issue.
Moving to the bigger display, it's a 7.85-inch AMOLED display with a resolution of 2296 by 2000. The resolution is higher than 2K. It, too, is an LTPS display with a variable refresh rate. It can go as low as 10 Hertz and as high as 120 Hertz.
The touch sampling rate on this display is higher at 360 Hertz, making it a very responsive screen, and it's good for gaming. With a display size of 7.85 inches, you can see everything clearly, and as for the crease, well, it's only visible when you look at the screen at very awkward angles which you wouldn't be doing, guys.
The display is perfect for watching content as it supports HDR. Working on documents, working on spreadsheets, and typing on them is not bad. It's going to take a while for you to get used to the big display, but after the learning curve, you should be able to type on it fast. How about using the display in that direct sunlight? Well, it's usable. It has a peak brightness of 1100, so that shouldn't be a problem.
Processor & RAM
The Phantom v-fold is powered by the MediaTek Dimensity 9000 Plus chipset. It's a four-nanometer processor and it's fast. It's a flagship processor that gives you 5G connectivity. It delivers good performance, and it is power-efficient.
Switching between applications is fluid, thanks to the 12 gigabytes of LPDR5x RAM that can be expanded to a whopping 21 gigabytes of RAM. No, thank you, I'm okay with the 12 gigabytes of RAM because that's enough for me. Phantom V-fold also comes with either 256 gigabytes or 512 gigabytes of internal storage, and it's a UFS 3.1 solid.
Camera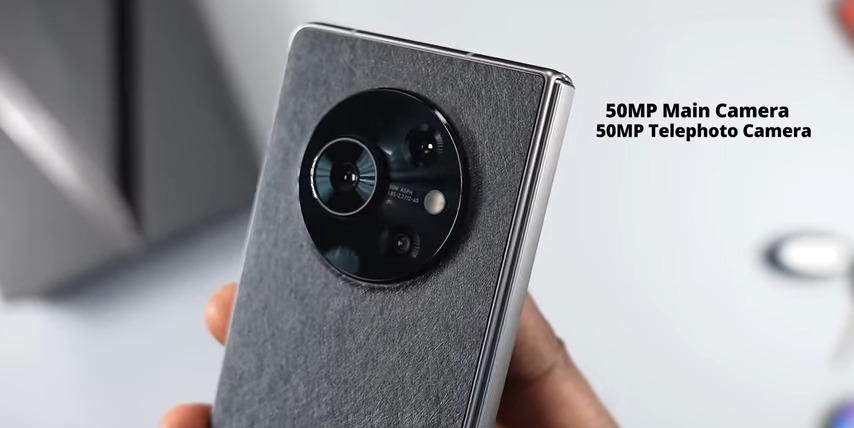 The Phantom V-fold has two front-facing cameras. The camera on the sub-display is a 32-megapixel selfie camera, while when you flip it open on the main display, it has a 60-megapixel selfie camera. Now, the best camera for taking surfaces is the 32-megapixel camera and for taking pictures indoors, it looks very good. Low light is where it shines. Check out the skin tone. It looks very good, and when you zoom in, it retains the details.
"Portrait shots look good on it as well but overall the pictures it captures are very good portrait pictures. Again, if you want to take selfie pictures and you want good quality, don't use the 60-megapixel selfie camera.
SEE ALSO:
The cameras have been improved, and the battery life is not bad for an affordable smartphone. Phantom V-fold isn't for everybody, but if you can afford it and you give it a chance, I promise you it's going to steal your heart as it has done mine.