Infinix Note 30 Pro Price In Nigeria
The Infinix Note 30 series is the latest addition to the adult line of devices. We saw the Note 12 Series last year, and with the new series, they've jumped all the way from 12 to 30. The same thing happened with the Hot series. I guess Note 30 sounds better than Note 13.
Well, there are three other devices launching alongside the Note 30 Pro, and that is the regular Note 30 in Note 30 5G and the Note 30 VIP, which should be the highest of this series.
The Note 30 Pro is a 4G device, and it's priced competitively. However, it costs a bit more than the Note 30 5G.
Price Of Infinix Note 30 Pro In Nigeria
The Infinix Note 30 Pro costs ₦179,500 In Nigeria. That's about $230 in a similar price bracket as the Redmi Note 12 Pro 4G and Samsung's Galaxy A24. And all can say is that it is competitively priced because, compared to the competition, this offers more value in specs to a reasonable extent.
| Infinix Note 30 Pro | Price In Nigeria |
| --- | --- |
| 256GB + 8GB RAM | ₦179,500 |
Infinix Note 30 Pro Price In Nigeria
Infinix Note 30 Pro Full Specifications
| | |
| --- | --- |
| BASIC INFO | |
| Name | Infinix Note 30 Pro |
| Launch Date | May 22nd, 2023 |
| DISPLAY | |
| Type of Screen | AMOLED |
| Size Of Screen | 6.78 inches |
| Resolution | 1080 x 2460 |
| DESIGN | |
| Weight | 205 g |
| Dimensions | 168.5 x 76.5 x 8.5 mm |
| Build Material | Glass front and back, plastic frame. |
| PLATFORM | |
| Software | Android 13, XOS 13 |
| Processor | Mediatek Helio G99 |
| CPU | Octa-core (2×2.2 GHz Cortex-A76 & 6×2.0 GHz Cortex-A55) |
| GPU | Mali-G57 |
| CAMERA | |
| Main | 108 MP |
| Depth | 2 MP |
| Selfie | 32 MP |
| Video recording | 2K@30 FPS |
| MEMORY | |
| RAM | 8GB |
| Internal storage | 256GB |
| BATTERY | |
| Capacity | 5000 mAh |
| Type | Li-Po |
| OTHERS | |
| Fingerprint | Yes (side-mounted) |
| Colors | Variable Gold, Magic Black |
| SIM | Dual Nano SIM |
| FM Radio | Yes |
| 3.5mm jack | Yes |
Infinix Note 30 Pro Full Specifications
CHECK OUT:
Unboxing Experience
It comes well packed in a box, which actually contains two boxes. One for the phone and the other for its 15-watt wireless charging pad. This is probably a first for any brand, adding the wireless charger to the box of the phone.
And it's even more interesting that the Note 30 also comes with a wireless charger. We'll talk about wireless charging later. The fact that it supports and comes with a wireless charging pad did not even prevent Infinix from adding a charging brick to the box. There is a 68-watt charging brick that should power the device to 80% in 30 minutes.
We also get a glass screen protector in addition to the rest of the accessories in the box. So, you are buying this and not bothering about spending extra cash for a case, charger, or screen protector. That's value. The case it comes with is transparent and fits nicely. It's not a flexible kind though, so expect scratches or even breakage if not well maintained. I like that it doesn't conceal the beauty of the design.
Design & Build Quality
Now, speaking of design, this reminds me of the Note 10 Pro. It had a similar color and texture on the rear. This camera bump, though, is chunky. This color Infinix calls Variable Gold, and I guess it's deserving of the name because its color actually varies depending on the angle light hits it. It has a fine texture and doesn't attract smudges. It's a glass build and it feels nice on the hands. The frame is glossy and made of plastic. I also like that it has a flat design all around.
Now, as far as build quality goes, this feels like a really premium device. You can find the fingerprint scanner on the power button, and it works just fine. The Infinix Note 30 Pro is their first device with a proper IP certification, that is IP53 for splash resistance.
I think that certification goes across the entire new 30 series. That's cool. It should survive accidental drops in water, splashes, and maybe use in the rain. But definitely, you do not want to take it swimming because it's not IP67.
Infinix has partnered with JBL for this one, as you can see branded on the device. Sound by JBL. Now, that's evident from the sound that comes from its stereo speakers. Really good quality. You can actually feel the sound vibrating through the rear of the device, and it's pretty loud too.
Wireless charging and reverse wireless charging. That is surprising by any standards. There are no devices at this price point that offer fast wireless charging, much more reverse. Unless you are getting the much older flagships.
Display
On the display side of things, we get a vibrant AMOLED display with 1080p resolution and a peak brightness of 900 nits. It's 6.67 inches in size and has a center-hole punch for its selfie camera. It's a nice-looking display, and if you like, you can tweak the color settings to your taste.
Since it's AMOLED, you get some cool always-on display animations. It supports a 120Hz refresh rate, which makes for smoother interaction with the UI. But by default, it is set to automatically switch between 60, 90, or 120 hertz as required by the device. So far, I've had no reason to choose 120Hz always, as I find it does a good job.
Software & UIl
For the software on the Infinix Note 30 Pro, we get Android 13 and XOS 13, which brings some improvements like material U integration, icon theming, and improved multitasking. Everything works as it should with the software, except that I noticed the lack of animation when opening or closing an app.
Only PalmStore has been sending unsolicited notifications so far, but UI offers to disable them if you don't interact with them. Or you can also just disable it yourself. It makes for a less intrusive interface.
RAM, Internal Storage & Processor
It comes with 8GB of RAM and 256GB of storage, which is also expandable by an SD card. The Infinix Note 30 Pro comes with a 6-nanometer MediaTek Helio G99 processor. One that is actually getting quite common at this price point. The same way you find it on Samsung's Galaxy A24 and a couple of other devices released recently.
It is actually a well-optimized processor and offers decent performance, running all your apps without issues.
Gaming
You can play your high graphics titles at medium settings. Call of Duty Mobile plays at medium graphics and high frame rates. PUBG plays at HD and high frame rates. I find it to be a solid gaming device, staying consistent with the temperature and no noticeable lags in my test so far.
Other Unique Features
One of the charging technologies Infinix added to the 30 is bypass charging. Now, this allows the device to bypass the battery once it charges past 30%. And part mode directly, reducing the chances of overheating. This is a feature you only need when gaming on a low battery and you want to keep gaming while plugged in.
To enable this, you need to launch a game from the XArena app, and then swipe and hold from the left or right. You'll see the option to enable bypass charging. You can also adjust the threshold for when it should enable bypass charging. Definitely, only something the hardcore gamers will bother with, not the average user.
Battery Life & Charging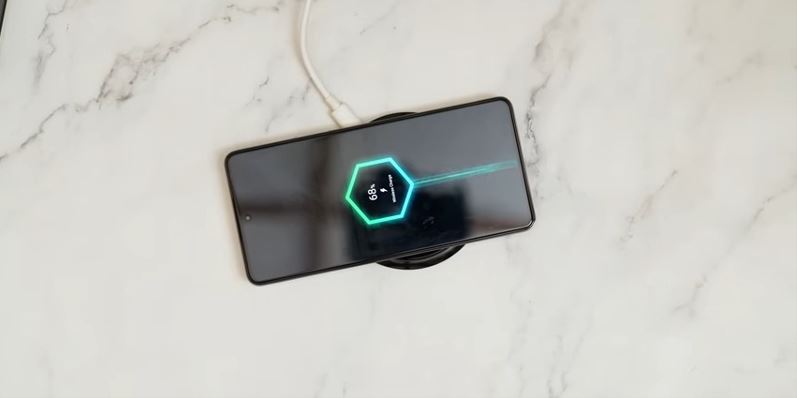 The battery life here is great, with no issues so far, and this should comfortably last you the whole day. You have a number of charging options for when you need a quick boost. And you can use a 68-watt charger or you can use the wireless charging pad, depending on how urgently you want it to charge.
Camera & Video Recording
For cameras, the Infinix Note 30 Pro keeps it simple with a 108-megapixel main camera, and the selfie camera is 32 megapixels. It takes some nice-looking photos with its main camera. The colors look okay, not too saturated. I think skin tones can be better, though.
Portraits look good on the subject separation, though sometimes not perfect. In proper lighting conditions, you should be satisfied with the results. For night mode shots, you will get good results as long as it's not drastic conditions. For the selfie camera, I found portraits to be sometimes sharper than regular selfies, but both do okay. Their processing is sometimes absent on portrait selfies.
On the video, the Note 30 Pro can only do a maximum of 2K at 30 FPS from both the selfie and rear cameras. There is no OIS, but you get software stabilization at 1080p.
FAQ
What is The Price Of Infinix Note 30 Pro in Nigeria?

The Price Of the Infinix Note 30 Pro In Nigeria is ₦179,500 for the 8GB RAM and 256GB model.
Can I play Genshin Impact on my Infinix Note 30 Pro
Yes, you can play Genshin Impact on your Infinix Note 30 Pro. The Infinix Note 30 Pro has a MediaTek Helio G96 processor, 8GB of RAM, and 128GB of storage. These specs are more than enough to run Genshin Impact at medium settings.
How To Make My Infinix Note 30 Pro Faster?

There are a few things you can do to make your Infinix Note 30 Pro faster:

✔️Close unused apps. When you open an app, it runs in the background even when you're not using it. This can use up battery power and make your phone slower. To close unused apps, swipe up from the bottom of the screen and tap on the "Clear All" button.

✔️Remove pre-installed apps. Your Infinix Note 30 Pro comes with a number of pre-installed apps that you may not use. These apps can take up space on your phone and slow it down. To remove a pre-installed app, go to Settings > Apps > Manage Apps. Tap on the app you want to remove and then tap on "Uninstall."

✔️Keep your phone up to date. Infinix regularly releases software updates for the Note 30 Pro. These updates often include performance improvements and bug fixes. To check for updates, go to Settings > System > System update.

✔️Clear the cache. The cache is a temporary storage area for files that your phone uses frequently. Over time, the cache can get filled up with unnecessary files, which can slow down your phone. To clear the cache, go to Settings > Storage > Clear cache.

✔️Factory reset your phone. If you've tried all of the above and your phone is still running slowly, you may need to factory reset it. This will erase all of the data on your phone, so make sure to back up your data first. To factory reset your phone, go to Settings > System > Advanced > Reset options > Erase all data (factory reset).

Final Words
Overall, the Infinix Note 30 Pro is an impressive phone when you look at the value it offers for the price. It It is nice to see Infinix upping their game and giving the competition a run for their money.
Areas where I think they still need to improve are the image processing for more consistency and also the software. XOS is significantly improved but still needs to be lighter.
Can I recommend this? Certainly, for devices around this price, it offers comparable specifications and it can't be ignored. It also offers much value too.