iPhone 13 Pro Max Price In South Africa & Specifications
People who have the iPhone 13 Pro Max will tell you three main things. First, the battery life is really good. Second, the cameras are excellent. Third, the phone is quite heavy.
The iPhone 13 Pro Max is one the best smartphones out there right now, and it's also among the most expensive smartphones from Apple even after the release of the iPhone 14 Pro Max.
If you want to buy the iPhone 13 Pro Max in South Africa, I would advise you to check many phone stores and compare prices before making a purchase.
iPhone 13 Pro Max Price In South Africa
The price of the iPhone 13 Pro Max in South Africa is around R18,683 – R27,183. The storage capacity of the version you are buying and your location will determine the final price.
| iPhone 13 Pro Max | Price In South Africa |
| --- | --- |
| iPhone 13 Pro Max Price In South Africa 128GB | R18,683 – R19,900 |
| iPhone 13 Pro Max Price In South Africa 256GB | R20,380 – R21,200 |
| iPhone 13 Pro Max Price In South Africa 512GB | R23,784 – R24,500 |
| iPhone 13 Pro Max Price In South Africa 1TB | R27,180 – R27,900 |
iPhone 13 Pro Max Price In South Africa
The 1TB version is priced higher than the base version with 128GB, maybe you know before now. Just like I said earlier, make sure you check prices from different sellers to help you get the best deals.
CHECK OUT:
iPhone 13 Pro Max Full Specifications
| | |
| --- | --- |
| BASIC INFO | |
| Name | iPhone 13 Pro Max |
| Model | A2643, A2484 |
| Launch Date | September 24th, 2021. |
| DISPLAY | |
| Type of Screen | XDR OLED |
| Size Of Screen | 6.7 inches |
| Refresh Rate | 120Hz |
| Resolution | 1284 x 2778 |
| DESIGN | |
| Weight | 240g |
| Dimensions | 160.8 x 78.1 x 7.7 mm |
| Build Material | Corning glass front and back, and a stainless steel frame. |
| PLATFORM | |
| Software | iOS 15, Upgradable |
| Processor | Apple A15 Bionic |
| GPU | Apple GPU – 5-core graphics |
| CAMERA | |
| Main | 12 MP |
| Telephoto | 12 MP |
| Ultra-wide | 12 MP |
| Selfie | 12 MP |
| MEMORY | |
| RAM | 6GB |
| Internal storage | 128GB, 256GB, 512GB, 1TB |
| BATTERY | |
| Capacity | 4352 mAh |
| Type | Li-Ion |
| MISC | |
| Face ID | Yes |
| Colors | Graphite, Gold, Silver, Sierra Blue, Alpine Green |
| SIM | Nano SIM & eSIM |
| FM Radio | No |
| 3.5mm jack | No |
iPhone 13 Pro Max Full Specifications
Design & Build Quality
It has ceramic shield glass at the front. Apple claims that the front glass is tougher than any other smartphone out there, which is true because ceramic glass is made by Corning, the same company that makes Gorilla Glass.
The iPhone screen might be tough, but it scratches easily. So if you're planning on using the iPhone 13 or any other Apple smartphone, get a screen protector and a case. The frame is made from stainless steel, and the rear is made from glass.
NOTE: The glass at the rear isn't as strong as the front, so that's another reason why you must use a case.
It weighs 249g with an IP68 rating for dust and water-resistant, so even if you get beaten by the rain, there is nothing to worry about.
Display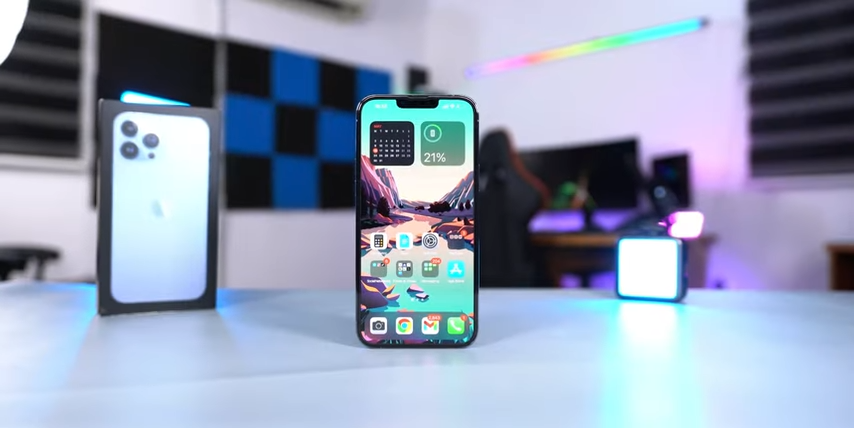 The iPhone 13 Pro Max comes with a 6.7-inch Super Retina XDR OLED display with variable refresh rate. It can go down to as low as 10Hz and to 120Hz. That's one of the reasons the battery life on the iPhone 13 Pro Max is very good.
The display has a resolution of 1284 by 2887 pixels with accurate colours and support for HDR content.
It's good for consuming media content, and the notch won't interfere when you are watching any video. You might think it would, but it will disappear when you start playing the video.
Processor, Gaming & Multitasking
The A15 Bionic chip, which is a 5nm chipset, can handle anything you throw at it like it's nothing. It plays both PUBG and Call of Duty at very high graphics and maximum frame rates, gameplay is very smooth on this device.
True multitasking isn't something that exists on the iPhone. The iPhone 13 Pro Max has 6GB of RAM. It can remember all the apps you've used before, but you can't use split-screen unless you modify your phone through jailbreaking.
The iPhone does a decent job of reopening apps where you left off. However, if you want real multitasking and the ability to split your screen, the iPhone 13 Pro Max might not be the best choice for you.
Camera & Video Recording
Moving to the cameras, the front camera has a 12-megapixel sensor and it takes really good pictures. Portrait shots look amazing; the skin tone it produces looks great. The way the iPhone processes its pictures would make you think you're the best photographer alive because it's really easy to take good-looking pictures with it.
For the rear camera, the iPhone 13 Pro Max comes with a 12-megapixel main camera, a 12-megapixel telephoto camera, and a 12-megapixel ultra-wide camera. The pictures captured by the iPhone are simply impressive, and it's going to make you bring out your smartphone more often to take pictures. Creating videos is where the iPhone 13 Pro Max shines.
You can record 4K videos at 30FPS, and the video quality has been more than sufficient for me.
Battery Life & Charging
The iPhone 13 Pro Max Sports a 4352mAh battery, and you can get up to 10 hours of on-screen time over a single charge. You can charge this device from 0-100% in just 1hr and 40 minutes. It has an amazing battery life compared to the previous models, so battery life would be an issue here.
Verdict
The only thing I don't like about the iPhone 13 Pro Max is the weight, I think it is too heavy. Another thing is the fact that Apple is still reluctant to improve on the multitasking side of things. Let me know your thoughts on this device in the comment section.