iPhone 7 Plus Price in Nigeria UK Used & Specifications
The iPhone 7 Plus price in Nigeria UK used varies depending on the condition of the phone, storage capacity, and where you are buying it from. However, you need to know that prices can fluctuate over time and may not be the same in different regions of the country. It is always advisable to research and compare prices from other sellers before buying.
If you actually want to buy a UK-used iPhone 7 plus but want to first confirm the price range before moving into any phone store to pay for it, then you are at the right place.
iPhone 7 Plus Price In Nigeria UK Used
You can buy a UK-used iPhone 7 Plus in Nigeria starting from ₦100,000 – ₦120,000. This price will also differ depending on the region you are buying from. Those living in Lagos might get it cheaper than those in other states.
| | |
| --- | --- |
| iPhone 7plus Uk used | Price In Nigeria |
| iPhone 7 Plus Price In Nigeria UK Used 32GB | ₦100,000 – ₦103,000 |
| iPhone 7 Plus Price In Nigeria UK Used 128GB | ₦105,000 – ₦110,000 |
| iPhone 7 Plus Price In Nigeria UK Used 256GB | ₦115,000 – ₦120,000 |
iPhone 7 Plus Price In Nigeria UK Used
So many people love iPhones because of the high level of optimization done on the device, and the iPhone 7 plus is not left out. But it is always good to know the full specifications of the device you want to purchase so as to help you make a good buying decision. we have provided you with the full specs of the iPhone 7 Plus below.
iPhone 7 Plus Full Specifications
| | |
| --- | --- |
| BASIC INFO | |
| Name | iPhone 7 Plus |
| Model | A1661, A1784, A1785, A1786 |
| Launch Date | September 7th, 2016 |
| DISPLAY | |
| Type of Screen | IPS LCD |
| Size Of Screen | 5.5 inches |
| Resolution | 1080 x 1920 |
| DESIGN | |
| Weight | 188 g |
| Dimensions | 158.2 x 77.9 x 7.3 mm |
| Build Material | Corning glass front, aluminum back, and frame |
| PLATFORM | |
| Software | iOS 10.0.1, Upgradable |
| Processor | Apple A10 Fusion |
| CPU | Quad-core 2.34 GHz (2x Hurricane + 2x Zephyr) |
| GPU | PowerVR Series7XT Plus |
| CAMERA | |
| Main | 12 MP |
| Telephoto | 12 MP |
| Selfie | 7 MP |
| | |
| MEMORY | |
| RAM | 3GB |
| Internal storage | 32GB, 128GB, 256GB |
| BATTERY | |
| Capacity | 2900 mAh |
| Type | Li-Ion |
| OTHERS | |
| Fingerprint | Yes (Front-mounted) |
| Colors | Jet Black, Black, Silver, Gold, Rose Gold, Red |
| SIM | Single Nano SIM |
| FM Radio | No |
| 3.5mm jack | No |
iPhone 7 Plus Full Specifications
Build Quality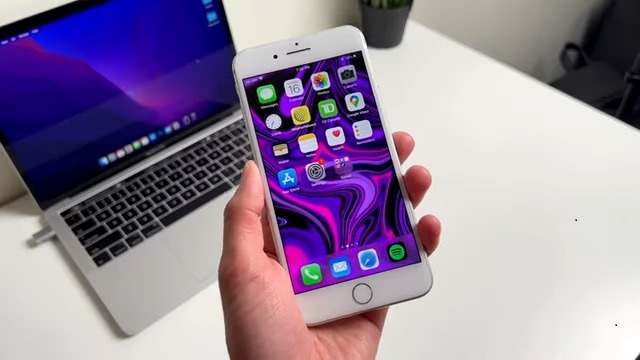 iPhone 7 Plus is still being used by a lot of people today, notwithstanding that it was launched in 2016 with iOS 10, and this was Apple's first-ever smartphone to feature Duo cameras.
I know the question in your mind might be, is this thing still usable today? And in my opinion, the 7 Plus is still very much usable.
Display
The iPhone 7 Plus features a sleek and premium design with a series 7000 aluminum body and glass front. It boasts a 5.5-inch Retina HD display with a resolution of 1920×1080 pixels. The display offers excellent color accuracy and sharpness, providing an immersive viewing experience.
Processor & Performance
The iPhone 7 Plus is powered by Apple's A10 Fusion chip, which delivers exceptional performance and efficiency. It is equipped with a quad-core CPU and a six-core GPU, ensuring smooth multitasking, fast app launches, and lag-free experiences.
Battery Life and Charging
The iPhone 7 Plus sports a non-removable Li-Ion 2,900 mAh battery, which provides all-day usage on a single charge. It supports fast charging, allowing users to quickly replenish the battery when needed. Additionally, the device offers improved power efficiency, maximizing battery life.
Software
Out of the box, the iPhone 7 Plus runs on iOS 10, which can be upgraded to the latest iOS version. iOS offers a user-friendly interface, seamless integration with other Apple devices, and access to a large number of apps and services through the App Store.
Camera & Video Recording
One of the unique features of the iPhone 7 Plus is its dual-camera system. It comes with two 12-megapixel cameras, one wide-angle, and one telephoto lens. This setup allows for optical zoom, improved low-light photography, and the popular portrait mode that creates stunning depth-of-field effects. The device also offers optical image stabilization and 4K video recording capabilities.
SEE ALSO:
FAQ
Is it safe to buy a UK-used iPhone 7 Plus in Nigeria?
It is very safe to purchase a UK-used iPhone 7 plus in Nigeria, provided the phone is in order. You must ensure that the iPhone is not locked to the carrier in the UK before buying it. Make sure you also inspect the iPhone properly, to avoid buying a broken one.
How Many Times Should I Charge My iPhone 7 Plus a Day?

The number of times you need to charge your iPhone 7 Plus a day depends on how you use your phone. If you use your phone for a lot of demanding tasks, such as gaming or video streaming, you may need to charge it twice a day. However, if you use your phone for more basic tasks, such as checking email and browsing the web, you may only need to charge it once a day.
Verdict
The iPhone 7 Plus offers impressive features and specifications. From its sleek design and high-quality display to its advanced camera system and powerful performance, this device continues to be a popular choice among iPhone lovers who want to feel the amazing feeling of owning an iPhone but are on a budget.
While it may lack some of the latest features introduced in newer iPhone models, it remains a reliable and capable option for those seeking a premium smartphone experience.
If you have any questions, don't hesitate to use the comment section below, I will be available to answer all your questions.