Bluetti EB55 Price In Nigeria
Whether for camping or around the house, a portable power station like this Bluetti unit here can be a real game-changer. It gives you regular 110-volt AC power, and you can power what you need for a couple of hours or up to a couple of days.
The fact that it is also rechargeable by solar panels makes it very nice, so you can actually charge it without electricity.
The Bluetti EB55 700W 537Wh might look a little bit expensive for an average Nigerian but I think it's definitely worth the money you are going to pay for it.
Bluetti EB55 Price In Nigeria
The BLUETTI EB55 Costs around ₦385,000 in Nigeria. You can order it directly from the Bluetti website or you use alternative online stores like Jumia and Konga.
| Bluetti EB55 | Price In Nigeria |
| --- | --- |
| Jumia | ₦385,000 |
| Konga | ₦385,000 |
Bluetti EB55 700W 537Wh Price In Nigeria
Bluetti EB55 Full Specifications & Features
| | |
| --- | --- |
| BASIC INFO | |
| Battery | 537Wh LiFePO4 |
| Inverter | 700W pure sine wave |
| USB-C Port | 100W |
| AC Outlets | 4 |
| DC Outputs | 2 |
| Wireless Charging Pad | 1 |
| Recharge Options | AC, solar, car, generator, AC+solar, dual AC |
Bluetti EB55 Full Specifications & Features
CHECK OUT:
Battery & Capacity
The Bluetti EB55 has a 537-watt-hour lithium-ion phosphate battery. For those who are not chemists or battery experts, a lithium-ion phosphate battery is different from lithium-ion. So let's go into that.
So, lithium-ion phosphate is the evolution of new batteries. It's made up of a much more stable chemical formula that allows the battery to remain cooler at higher temperatures. This means that the Bluetti EB55 is more reliable and durable, especially in outdoor environments where temperatures can fluctuate.
Watt-hour is a unit of energy that represents the total amount of energy a battery can deliver over a specific period of time. It's important to note that watt-hour is different from amp-hour (Ah). Amp-hour refers to the battery's capacity to deliver a certain amount of current over a specific period of time.
To put it simply, the watt-hour rating tells you how much energy the battery can store, while the amp-hour rating tells you how long the battery can sustain a certain level of power output.
In the case of the EB55, it has a 537 Wh battery capacity, which means it can provide 537 watts of power for one hour, or a lower amount of power for a longer period of time.
Design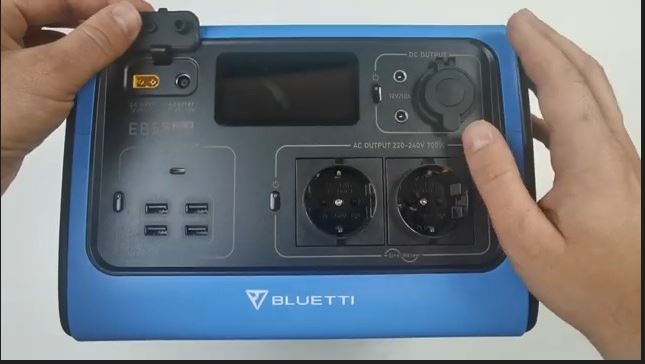 In terms of practical use, the EB 55 is designed to power various devices and appliances you may use during camping trips or outdoor activities.
It features multiple power output options, including AC outlets, USB ports, and DC ports, allowing you to charge or power devices such as smartphones, tablets, laptops, cameras, fans, and even small appliances like mini-fridges or CPAP machines.
The EB55 also comes with a built-in MPPT solar charge controller, which enables you to recharge the battery using solar panels. This is particularly useful for off-grid adventures where you may not have access to conventional power sources. The solar charging capability adds to the unit's versatility and makes it suitable for extended camping trips or emergency situations.
Performance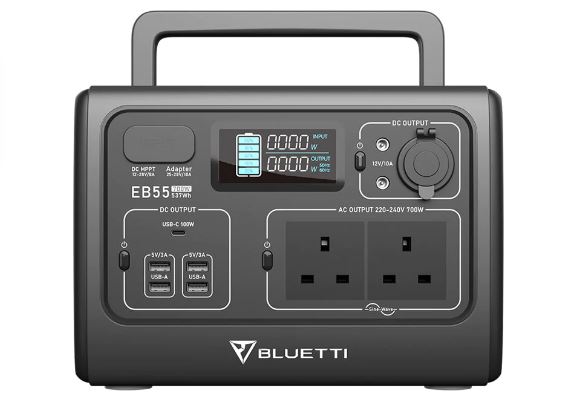 Bluetti EB55 delivers reliable power output and can handle so many devices simultaneously. It's important to consider the power requirements of your devices and ensure they are compatible with the power station's outputs. The EB 55 provides sufficient power for most camping and outdoor needs, but if you have high-power devices or appliances, you may want to consider a larger power station like the Bluetti AC200P.
Our Opinion
The Bluetti EB55 is a compact and portable power station with a reliable lithium-ion phosphate battery. It offers a decent battery capacity, multiple power output options, and the ability to recharge using solar panels. If you're looking for a smaller and more affordable power station for your camping adventures or emergency power needs, the EB55 is worth considering.